Guelph family plays role of Santa for Seniors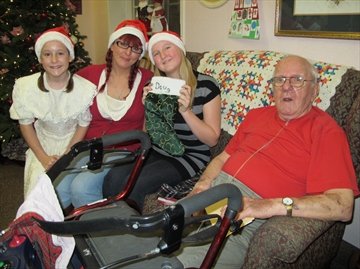 Stockings for seniors
Joanne Shuttleworth, Mercury staff
Lillianna Strine, Rachel Strine and Gabrielle Walkey present Doug Barrow with a Christmas stocking. Rachel and her two daughters decided to pare down their own Christmas list and fill stockings for some seniors at Norfolk Manor. They delivered the stockings Christmas Eve.
GUELPH—Rachel Strine was packing Christmas hampers for low-income families with other Lakeside Hope House volunteers when she started thinking about all the seniors in the community who don't have family to spend the day with.
She did a little research and learned there are no programs to bring Christmas to this population. So she and her daughters decided they'd be Santa to seniors this year.
They pared down their own Christmas wish lists and decided to use the money to purchase items to fill 13 stockings.
The girls wrote names on the stockings with fabric paint and wrote personal messages on greeting cards. They filled the stockings with gloves, scarves, socks and a stuffed Santa toy.
Dawn Keating at Norfolk Manor supplied the names of 13 residents who would appreciate the thoughtful gesture and on Tuesday afternoon the Strines delivered the stockings.
"My grandmother passed away suddenly last year," said Rachel. "So this is a hard Christmas for us. But I know she'd be proud that we're doing this. She often thought it was so sad that many nursing home residents don't have family to visit them at Christmas. The girls have really embraced it."
"We get a lot of gifts," said Gabrielle Walkey, 13. "It's better to give them to people who need things."
"It's nice to make them happy," agreed Lillianna Strine, 10. "Christmas is about being happy."
Doug Barrow, a Norfolk Manor resident, joked with the family during a photo.
"There's only one stocking here," he teased. "How am I supposed to wear this?"
The family was heading to their grandmother's grave after their stop at Norfolk Manor.
"We'll have to tell her all about it," Rachel said.